Een ingreep uit de cosmetische chirurgie die vanuit Amerika nu ook Nederland en België heeft bereikt, is de mommy makeover. De naam verklapt misschien al een beetje waar het over gaat. Deze ingreep is gericht op pas bevallen moeders. Niet iedereen heeft last van deze 'moeder klachten' na een bevalling, maar wanneer dat wel het geval is zijn de 'probleemgebieden' meestal de buik en de borsten.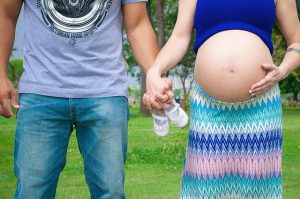 Na een bevalling kan de buik wat zijn uitgerekt, dit is vaak nog erger wanneer het een tweeling of zelfs een drieling betreft. Er is dan vaak overtollig vel rond de buik aanwezig, waar vrouwen niet bepaald trots op zijn. Ook zijn de borsten vaak wat slapper geworden of gaan hangen. Met de mommy makeover worden deze gebieden dan ook aangepakt.
Niet voor iedereen geschikt
De buikwandcorrectie is een onderdeel is van de ingreep is zeker geen lichte ingreep en is niet voor iedereen geschikt. Wanneer een vrouw die pas bevallen is deze ingreep overweegt, zal er eerst advies moeten worden ingewonnen van een plastisch chirurg. Sommige van deze plastische chirurgen werken voor zichzelf, maar in de meeste gevallen is het een kliniek waar deze ingrepen gedaan worden.
Een dergelijk consult is niet gratis en kost meestal enkele tientjes. Er wordt gekeken naar de buik, de borsten en eventuele andere gebieden om te bepalen of de ingreep een optie is. Soms wordt er gekozen voor een borstlift, maar soms ook voor een vergroting van de borsten.
Ook worden de risico's doorgesproken. Want ondanks dat het hier gaat om een cosmetische ingreep, blijft het nog steeds een operatie met de nodige risico's. Een arts of chirurg bespreekt deze risico's altijd uitgebreid en vertelt hoe een eventuele operatie zou verlopen in een kliniek voor plastische chirurgie waar deze ingrepen worden uitgevoerd.